If you are interested in any of our products and wish to purchase it, please follow our instructions on how to place an order.
STEP 1.
Choose a size of the product.
You can also change the color of the product by clicking on the selected thumbnail.
Fill in the purchase quantity.
Click "

CHECK OUT

" button.
STEP 2.
Now you can continue shopping or check your shopping cart's contents, by clicking on the cart icon in the upper right-hand corner.
Confirm the product information to be purchased.

Click "CHECK OUT".
STEP 3.
In the shopping cart's preview you can see a list of the products you have chosen, together with their quantity and price.
If you have a promo code, click on the "PROMO CODE" button on the left and a box will pop up. Enter your promo code in the box and click "APPLY".

Please complete your contact information: E-email and shipping address.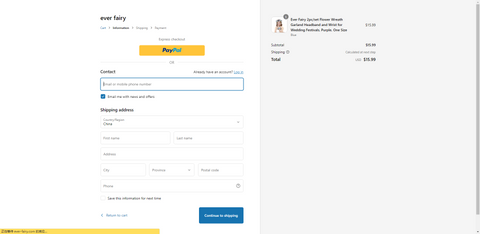 STEP 4.
Fill in customer information and choose payment methods.
Click "Continue to Shipping" to pay.
STEP 5.
Check the information you filled.
Click "Continue to payment" to continue.
STEP 6.
Choose the payment methods you prefer.
Click" Complete order ".
STEP 7.
We will email you as soon as possible to confirm your order.
Order processing will start after payment. We will send tracking number and links to your registered email.